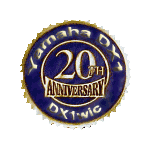 welcome to the

Yamaha DX1 worldwide information center
as there was initially started a few years ago, a fairly small section at www.kratzer.at dedicated to an impressive and beloved synthesizer called Yamaha DX1, we never thought what immense interest and response this special instrument still causes...
there was - and still is - regular worldwide contact to many owners and friends of this keyboard, also to people hardly searching for spare parts, trading whole machines or seeking for special information which is often hard to find at the internet.
therefore this information center was created, expanded regulary, and after the 2003 relaunch it is the most comprehensive DX1 online ressource you´ll find.
if you would like to support us with anything new regarding the DX1 and the DX5, please send in because the DX1 wic should finaly never be finished.

as a special for the 2003 relaunch, we would like to feature also the "little brother" yamaha DX5 at the w.i.c.
this synth is not that rare, but because of it´s very close affinity, it also should earn some more attention.

to all people asking and searching information to other yamaha DX and FM synths, especially the DX7 series please use our provided links or google around

if you like to take a look behind the scenes and learn more about us, visit kratzer audio landscapes or use the index bottom of page to zap trough the entire site at www.kratzer.at, you can always come back to the DX1 wic from the main menu.
use the index top of page to switch at DX1wic sections you are interested in, and feel free to download and copy anything you want from this site for your private use.

hope you´ll find something useful here and come back soon, questions and feedback of course is always welcome!

regards,




stefan kratzer



stefan kratze